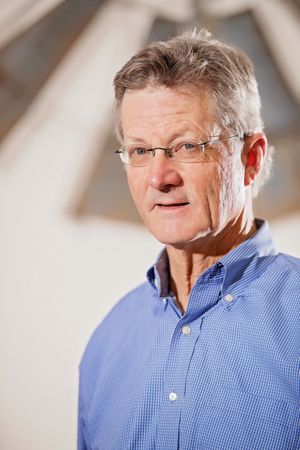 Dr. Glenn Rogers is a local veterinarian and the owner and operator of the Holt River Ranch outside of Graford in Palo Pinto County. Glenn is passionate about ranching and range management, and the ranch develops and markets around 800 primarily Red Angus Beef heifers annually.
A product of rural Texas, Glenn grew up around his family's ranching operations, which have existed in Palo Pinto County since the 1890s. His experiences with ranching, FFA, and the guidance of a local practitioner inspired him to pursue a career as a cattle veterinarian.
After graduating from Graham High School, Glenn earned his Bachelor of Science from Texas A&M University and then earned a Doctor of Veterinary Medicine from Texas A&M College of Veterinary Medicine in 1980. While at A&M, Glenn served as president of the American Association of Bovine Practitioners (AABP) student chapter and as the Corps of Cadets Squadron 12 Commanding Officer from 1977-1978. He also served as a member of the elite Ross Volunteers, the ceremonial guard for the Governors of Texas.
After graduating from A&M, Glenn opened a rural mixed veterinary practice in Graham, and later opened another in Graford. While practicing veterinary medicine, Glenn served as a director of the Texas Veterinary Medical Association and president of the Palo Pinto County Farm Bureau. He was also elected to serve on the Graford ISD School Board during this time.
In 1991, Glenn made the decision to leave his veterinary practice to pursue post-graduate training in Beef Production Medicine at Kansas State University. He received his Master's in Beef Production Medicine in 1993. While at Kansas State, he participated in the inaugural Beef Production Management Series at the Great Plains Veterinary Education Center in Clay Center, Nebraska.
In 1993, Glenn accepted a Ruminant Production Medicine position at North Carolina State University, and quickly ascended to tenured associate professor status. During his time at N.C. State, he served as the faculty representative for the AABP student chapter, and developed the primary student large animal externship program and beef production medicine elective courses. Glenn became a board-certified Diplomate in the American Board of Veterinary Practitioners in the beef practice category, and has maintained this status since.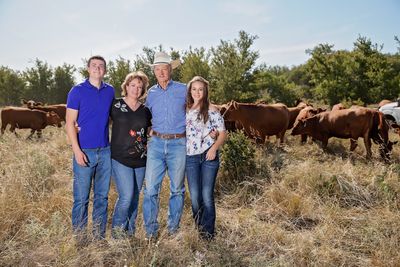 Glenn returned to Texas in 2000, and accepted a position as a technical veterinarian for Pfizer Animal Health. For the next 12 years, he was a technical services veterinarian and managed the beef technical service veterinarians in the Western United States. In 2007, Glenn was honored with the prestigious Pfizer W.E. Upjohn Award for innovation in creating a unique beef herd health planning platform.
Since leaving Pfizer, Glenn has continued to expand and operate Holt River Ranch and has served as a ranch and veterinary consultant. In 2017, he received the Conservation Rancher of the Year Award for the State of Texas, and in 2018 he was honored as "Consultant of the Year" by the Academy of Veterinary Consultants. Glenn also serves as a Trustee of the Send a Cow organization, which supports agriculture sustainability projects in six African countries.
Glenn is a member of the Texas Farm Bureau, Texas and Southwestern Cattle Raisers Association, and recently finished a term as President of the American Association of Bovine Practitioners (AABP). The AABP is a North American association of cattle veterinarians with over 5000 members.
Glenn and his wife, Mandy, have three daughters and one son: Meg, a doctor, Ginny, an attorney, Leah, a high school sophomore, and Ben, a student a Texas A&M. They also have five grandchildren and are longtime members of the Methodist Church, where Glenn serves as a lay reader and recently served as chair of the Staff Parish Relations Committee.